Let's bring the "ATX Bocce Pavilion" and
"Gulliver's Mini-golf and Gocce" to Walter E. Long Park
Austin has BIG plans for Walter E. Long Park - thus, we have an amazing opportunity here to do something fantastic. I'm presenting two genuine attractions - veritable "landmarks" that will generate tourism, revenues and locations for sports and social interaction, fundraising events and more.
The first I'm calling the "ATX Bocce Pavilion." It's a one-and-a-half acre 16-court setup with central viewing tiers. (Plus, a couple of Gocce Courts.) Perfect for our local league plus regional, national and even international tournaments.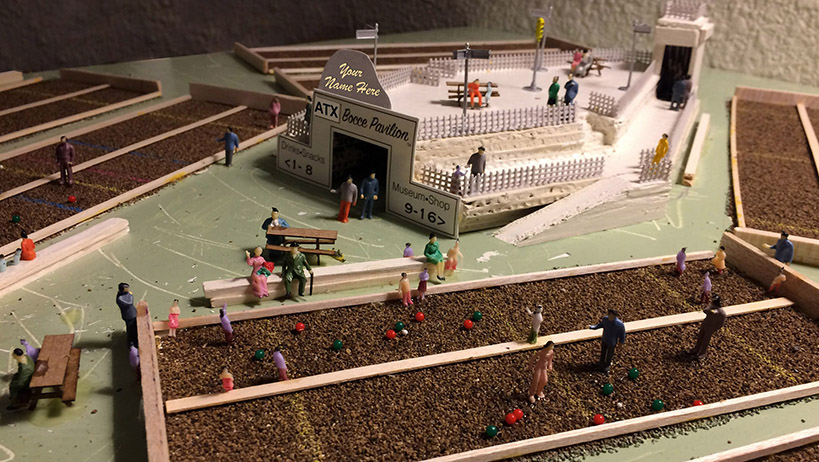 I have recently moved back to Austin after 30 years in California. One thing I discovered in Napa Valley was the incredible sport of Bocce, sometimes called Bocce Ball. I've started two Bocce Leagues there. One was begun in 2009 and now has 500 members playing five nights a week on six courts in Santa Rosa. The second in Middletown has begun construction on two courts.I started the Austin Bocce League (
austinbocceleague.org
) to bring the same fun and excitement here.
There are over a million bocce players in the US. People of all ages, colors, shapes and sizes can play. Little old ladies can beat burly truck drivers. Young "nerds" can beat "jocks." The real joy is watching the community's social interaction, networking and friendly competition that occurs. I presented "BocceFutures" – a 30-page brochure to City Council which is designed to illuminate Texas about the awesomeness of this sport throughout the world. In terms of sheer participation and social interaction - I don't know of any equal. Read "
BocceFutures.
"

---
The second is an invention of mine that combines miniature golf with bocce. I call it "GOCCE™." But, what takes it over the top is that it's played on a 3-D scale model map of Travis County. The holes include the Capitol, UT Tower, Lake Travis, Pennybacker Bridge… and of course the Manor Water Tower and Ghost Town. The 27-hole 2-acre site would be a "must-see" destination for thousands each year generating tons of revenue and prestige. Elementary school tours would be frequent and on-going. Charity fundraiser would generate immense funding. Gocce™ is Patent Pending.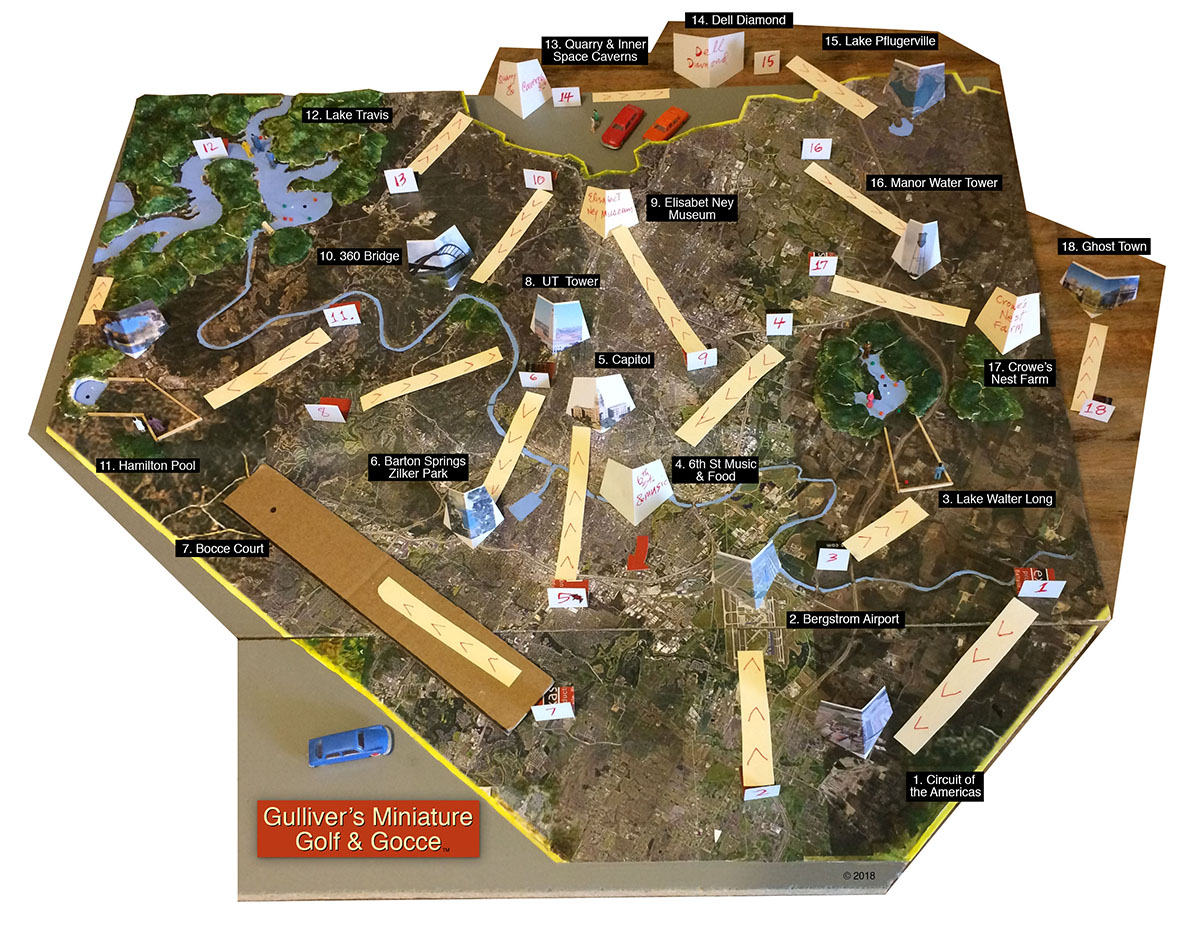 Consider a revenue-sharing arrangement between the City, the Austin Bocce League (502 c3 non-profit), private investors (or local citizens as stock holders) and my company, Calexas as the "Concessionaire" developing and managing operations. It could be as simple as local developers guaranteeing a loan or more complicated as in a bond or other City borrowing/funding mechanisms. This is not only a health and sports attraction, it's a giant learning tool. Note the educational aspects below.
Cedar Park City Council recently announced it intends to bring the U.S. Tennis Association Texas to their town including building a facility with 40 tennis courts, including six to eight indoor courts; a stadium court; and related amenities for training, development and competitions.
Lake Travis hole: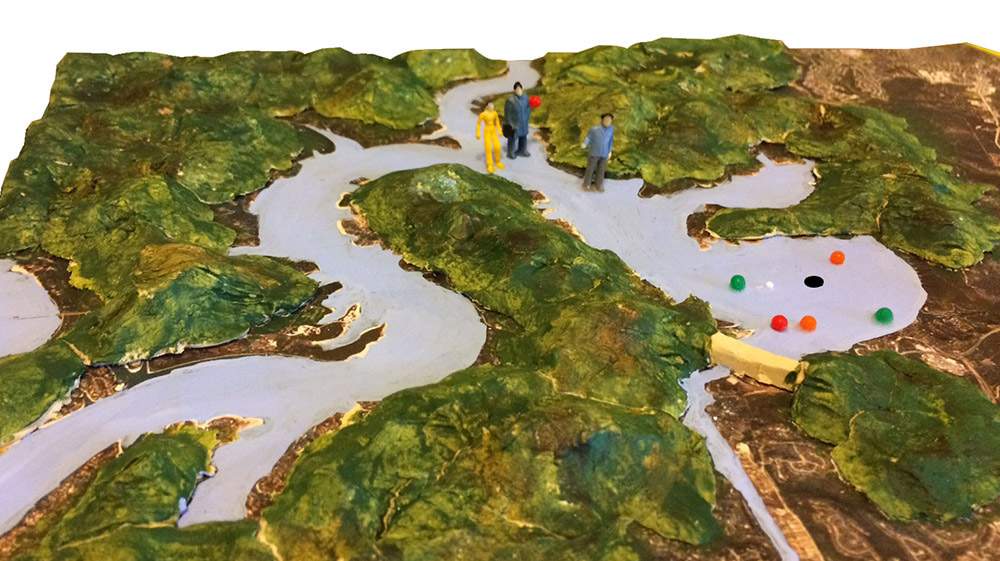 Educational Aspects
Each hole will have signage and QR codes/apps for kids and adults to learn more about the geography, history, geology etc. of our amazing Central Texas.
 1. Circuit of the Americas - Sports, Grand Prix race cars, mechanics and engineering, speed, driving safety and world class music concerts.
 2. Bergstrom Airport - Aviation, International airport, transportation, history as Air Force base, Barbara Jordan
 3. Lake Walter Long - Water conservation, sports, outdoor recreation, health, Decker Park management, Parks and Recreation Dept
 4. 6th Street Music & Food - History, Music history and impact, black music, SXSW, emergence of Austin as food center, careers
 5. Texas State Capitol - History, government, civics, architecture, bats, indian and mexican impact
 6. Barton Springs/Zilker Park - Water and land management, citizen impact, Austin PARD, music activities, Austin City Limits
 7. Traditional Bocce Court - 13'x90'  - history of sports (goes back to Egyptians), teamwork, networking, also French version petånque, benefit of sport for special needs individuals
 8. UT Tower - Education, history, also highlighting other local colleges inc. St. Edward's, Huston Tillotson, etc., architecture, "the Drag"
 9. Elisabet Ney Museum - Fine Arts, sculpture, women's contributions, architecture, and highlights to other museums
10. 360 Bridge - Pennybacker Bridge, engineering, architecture, population growth, gateway to Hill Country
11. Hamilton Pool - Land and water management, geology, recreation, natural beauty, sports
12. Lake Travis - engineering and water management, LCRA stewardship, system of dams, boating and recreation
13. Quarry and Inner Space Caverns - Geology, natural beauty, use of resources, history
14. Dell Diamond - Sports, Baseball, Professional athletes, also nod to tech industry and Dell's leadership in local philanthropy, hospitals, etc.
15. Lake Pflugerville - water sports, sailboarding, urban planning, development and growth issues
16. Manor Water Tower - History, civic planning, 1870's railroad impact, agriculture, cherishing small town and balancing growth, architecture and water management
17. Crowe's Nest Farm - Agriculture and animal husbandry, connecting to nature, importance of educating children about nature and our place in it
18. Ghost Town - Family activities, history, old west, and end of life issues...
---