Overwhelming Approval at Town Hall
Very good turnout at the MATH town hall Thursday night Jan 12. I had put together a slide show with pictures of Trailside Park (then and now) and my suggested court layout; along with "people-having-fun" photos from my bocce league's start in 2009 in Santa Rosa; and some
of the local court setups (St. Helena and Yountville). There were many good questions and a very friendly crowd. Most were aware of the game. I also brought actual bocce balls for people to see and feel.
I was just getting warmed up when the Chairman cut to the chase. A motion was made and seconded to support having bocce courts at Trailside Park. The vote was called and to thunderous "ayes" (maybe 40 or so people), one nay and 4 abstentions - it was overwhelmingly passed.
Thank you Citizens! Thank you MATH Board of Directors!
Next week, we'll continue working with County Parks and Recreation to make this happen.
Meantime, please take our SURVEY to help us plan and keep you in the loop.

- Robert Battaile, Acting President - Middletown Bocce League
p.s. I just had a call from a woman wanting to put bocce courts in at Lakeside Park in Lakeport.
She claims they could be some "fierce competition."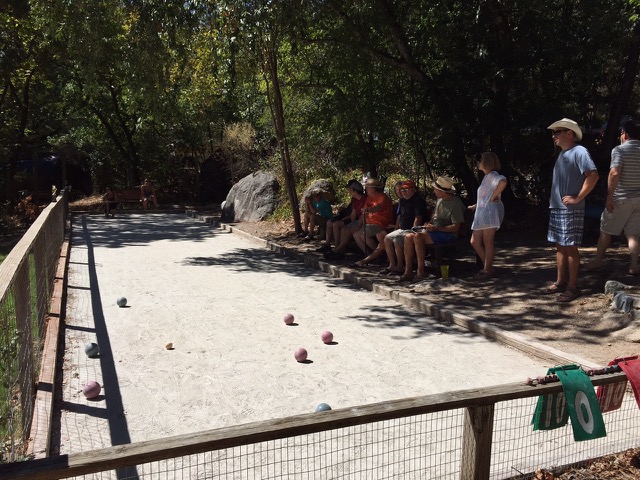 This is Anderson Springs. It's a hub for the community with a couple of events every year including Fourth of July games.
Pretty cool scoring system. Photo thanks - Andrew Keeler. Pope Valley Winery also has a court and I've run some matches at their events.
Middletown Bocce - Start Building Your Teams!
Just imagine a sunny afternoon. We get family and friends and go to the Library to check out a set of Bocce Balls (or we have our own) and head over to Trailside Park to play on our courts. Free. Relatives come to town, you go play bocce. And have a picnic.

Or, you join a team of 6-10 others and play one night a week for 9-10 weeks ($25 total. No charge if requested.) We'll create teams for individuals, couples, and trios to join. I think being in the very first League Season has great caché (and gets you preferred scheduling position the next season).
Here's where the County stands per an email from Kati Galvani, Interim Deputy Director of Parks and Recreation: "We are willing to further discuss allowing the Bocce Ball courts at Trailside Park in the area proposed. The ordinance regarding County of Lake Parks and Facilities covers recreational uses like baseball, basketball, bocce ball, skate parks, bmx, hiking etc. There will be topics to address once you have gained interest from the community such as building the courts and signage. We do not have the funds to build the courts but as I said we are willing to consider providing the space if the community supports it. Thank you for all you are doing to keep this moving and I appreciate your enthusiasm for the sport and opportunity to keep residents active and socializing in such a positive way!"
Lars Ewing, Parks and Recreation Director has been involved in the discussions and indeed it was their suggestion for us to consider Trailside Park as a preferred site. Thus, it's my earnest conviction that we can show our community's support right now by getting our Town Hall Directors' approval this Thursday. We have the wherewithal to build the first four courts and organize the League. The courts can be built in two weekends. Let's have a SPRING LEAGUE! The sun will shine again. I know it will with your help.
- Robert Battaile, Acting President Middletown Bocce League
p.s. This is a pretty good video that explains the game, advanced strategies and how it can all change so fast.
Try to ignore the astroturf. https://www.youtube.com/watch?v=v3slD-qDIW8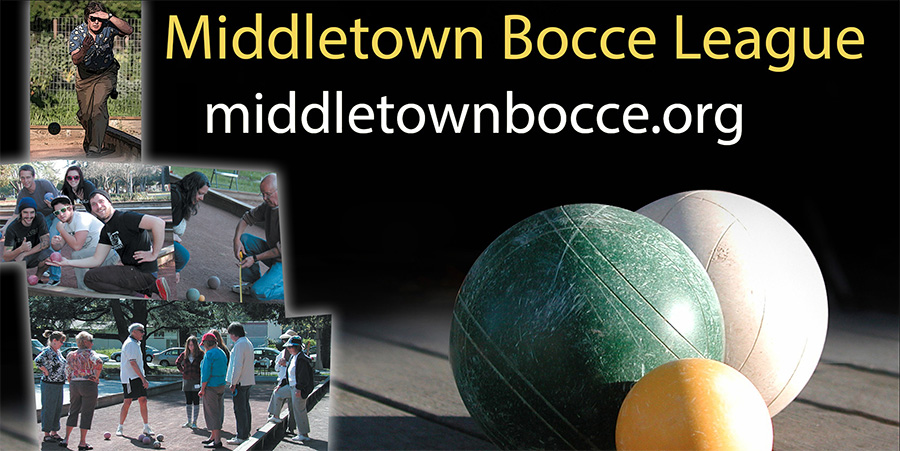 MIDDLETOWN BOCCE LEAGUE
Welcome! We are starting a Bocce League in Middletown. Bocce is an amazing sport that is fun for all ages and encourages friendly competition and social interaction. I played in the St. Helena Bocce League which is one of the best there is. Almost one out of every five people in town play on a team. They have eight or nine courts! The standings are published in the paper each week. The potluck food is always outstanding.
In 2009, I briefly moved to Santa Rosa and helped start the first league there. (They'd had courts for twenty years.) Bocce League play is in its 7th year now with 300+ players rolling on six courts five nights a week. I just went to their season-end celebration and barbecue. It was a blast. Many of the original gang were still there keeping things going.
When I recently was producing a song and video about the Valley Fire (valleyfiresong.org) and interacting with the community chorus and musicians, I suddenly realized how much people would enjoy having a league here in Middletown. But of course, we need to first build some courts. After I showed my siteplan for Courts in front of the Senior Center to the County Parks and Recreation Dept., they suggested Trailside Park as a possible location.
The Park has suffered greatly from the fire and could use some new mojo and TLC. Here's a siteplan for Trailside Park which has nice parking, a bathroom and room to expand. CalTrans is widening the road in front and we may need to protect the few trees that remain here. The next MATH meeting is Thursday, December 8. Hope you can attend.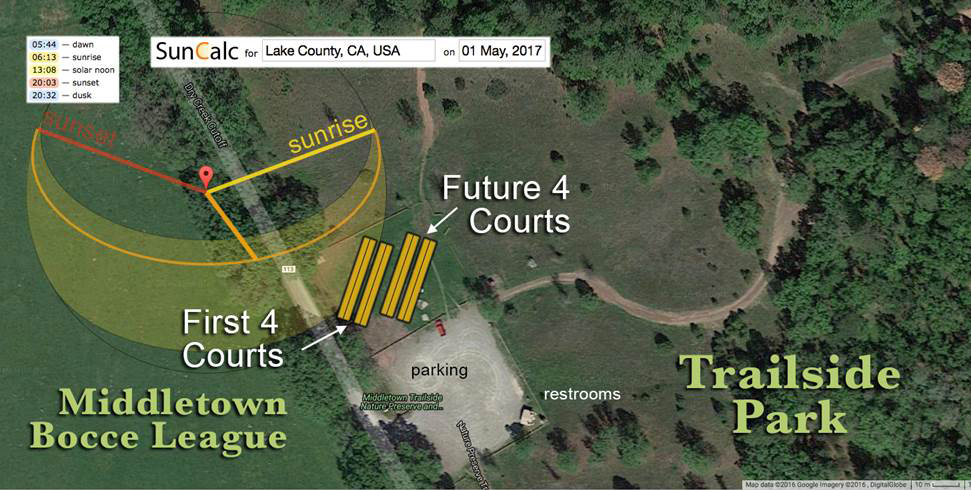 We'd start with four courts and have room to add four more later. I've suggested a "Five-in-One" design with a movable back wall that can be configured for 90' - 76' - 60' Bocce Courts or two 45' Petanque Courts. Petanque is a French version that uses smaller metal balls.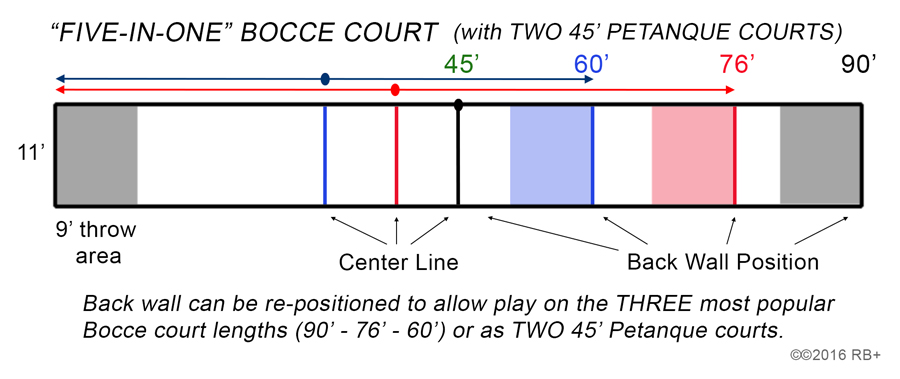 I think we already have the support needed to build the courts. Hardester's has offered to help with materials and may have two teams. People from the Twin Pine Casino, Lions Club, Senior Center, MAMA and others will be jumping in soon with their own teams. We are now registered with the State as an unincorporated non-profit Association and thus can begin to setup a Steering Committee, work with the County and commence operations.
See you in Court! - Robert Battaile, acting President (battaile@calexas.com) 707-965-9568


---
This spot was suggested by a lady from the Senior Center. These two 76' courts would be built on top of the sidewalk. Could be temporary.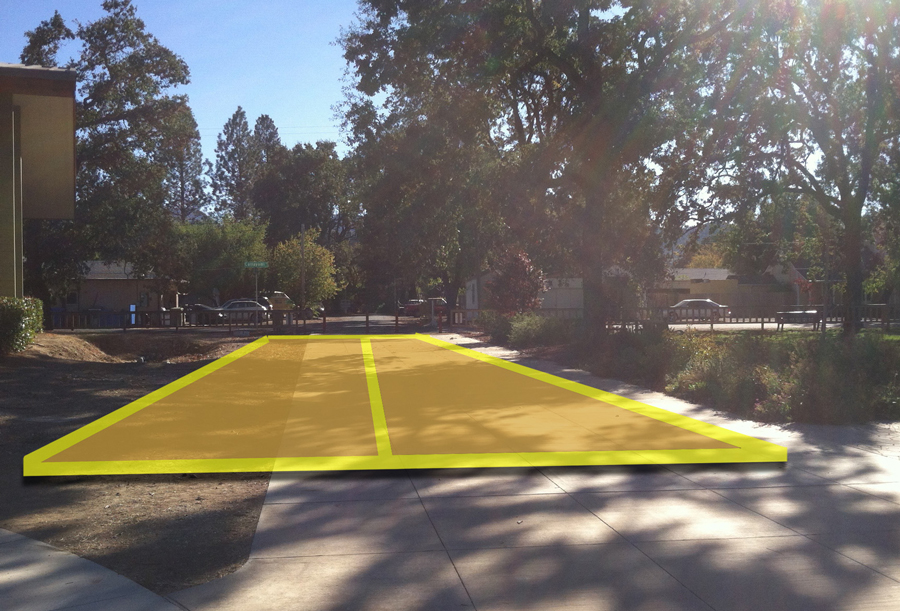 There are lots and lots of court designs online. Here's one I really like... the courts in nearby Yountville. A very robust league there. More designs follow.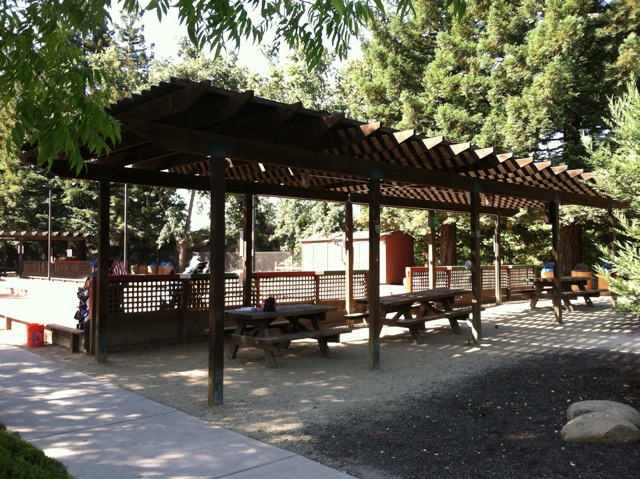 Two vets in wheelchairs were playing this morning.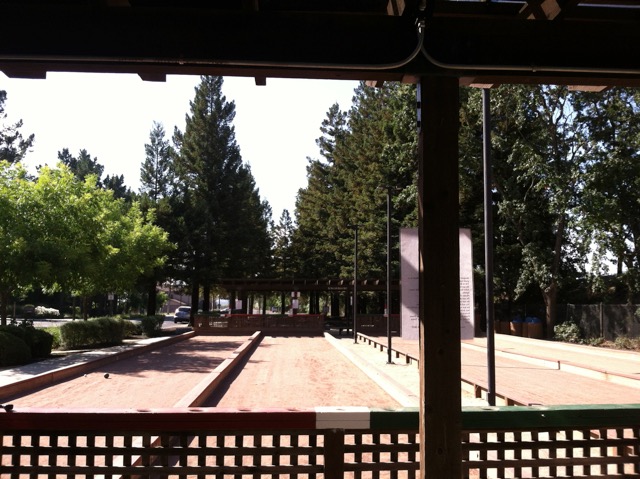 Note the lights.